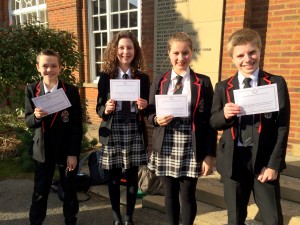 On Wednesday 24th February, four students from Lymm High School took part in the UKMT Maths Challenge  at Manchester Grammar School. This is a national competition, run by the UK Maths Trust, with the aim of engaging and enhancing pupils' mathematical thinking, communication and teamwork skills.
The team of two year 8 pupils – Matthew Uren and Gwen Tavernier – and two year 9 pupils – Finlay Williams and Amy Wright – took part in several activities across the 4 hour competition, involving 28 high schools from the Manchester area.
The team performed exceptionally well and placed third in the competition, only beaten by teams from Manchester Grammar School and Withington Girls' School – making them the highest ranked state school in the competition and narrowly missing out on qualifying for the finals of the competition  in London.