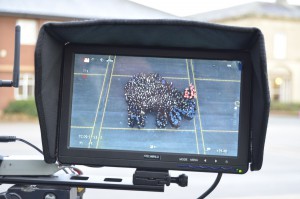 On Wednesday 18th November, our Sixth Form and Year 7 students helped to create a "Human Rhino" on the English Yard as part of Afritwin's Rhino Awareness campaign. The team at Kestrel Cam Professional Aerial Filming & Photography used a drone camera to help us create the rhino, as well as film the finished product. By filming the event from the air, we were able to create a visually interesting film to raise awareness of the campaign to save these creatures from extinction. The finished piece was then edited by our Afritwin students and Miss Hinchcliffe to create the campaign video. I would like to thank Kestrel Cam for their help in making this possible, and a huge well done to Mr Burnett and the Afritwin team for their excellent planning and for the overall success with this project. You can view the finished product on our new YouTube channel by clicking on the link below https://www.youtube.com/channel/UCRzJpyHT9JeTy7H2vgcJ9eQ
For those unaware, Afritwin is a charity project which links schools in the UK with schools in both the affluent and poorer townships of South Africa, and is run by a small group of staff and students at Lymm High School.
Every two years a group of our students visit the schools in South Africa and work to improve conditions for our partner townships. This year we wanted, not just to help our twin school, but also support the wider community within South Africa by adding an environmental aspect to our work. To do this we researched a number of current issues, and one that caught our attention was the plight of the rhinos in South Africa, which are in danger of extinction. We decided to try to raise awareness of this issue over here in the UK, with a number of events and initiatives in school. Rhino awareness is one of the most important current issues within the animal world. Their population is declining rapidly. The worry is that our children might never see a live rhino in the wild; this is not something that what we want for the next generation of young people.