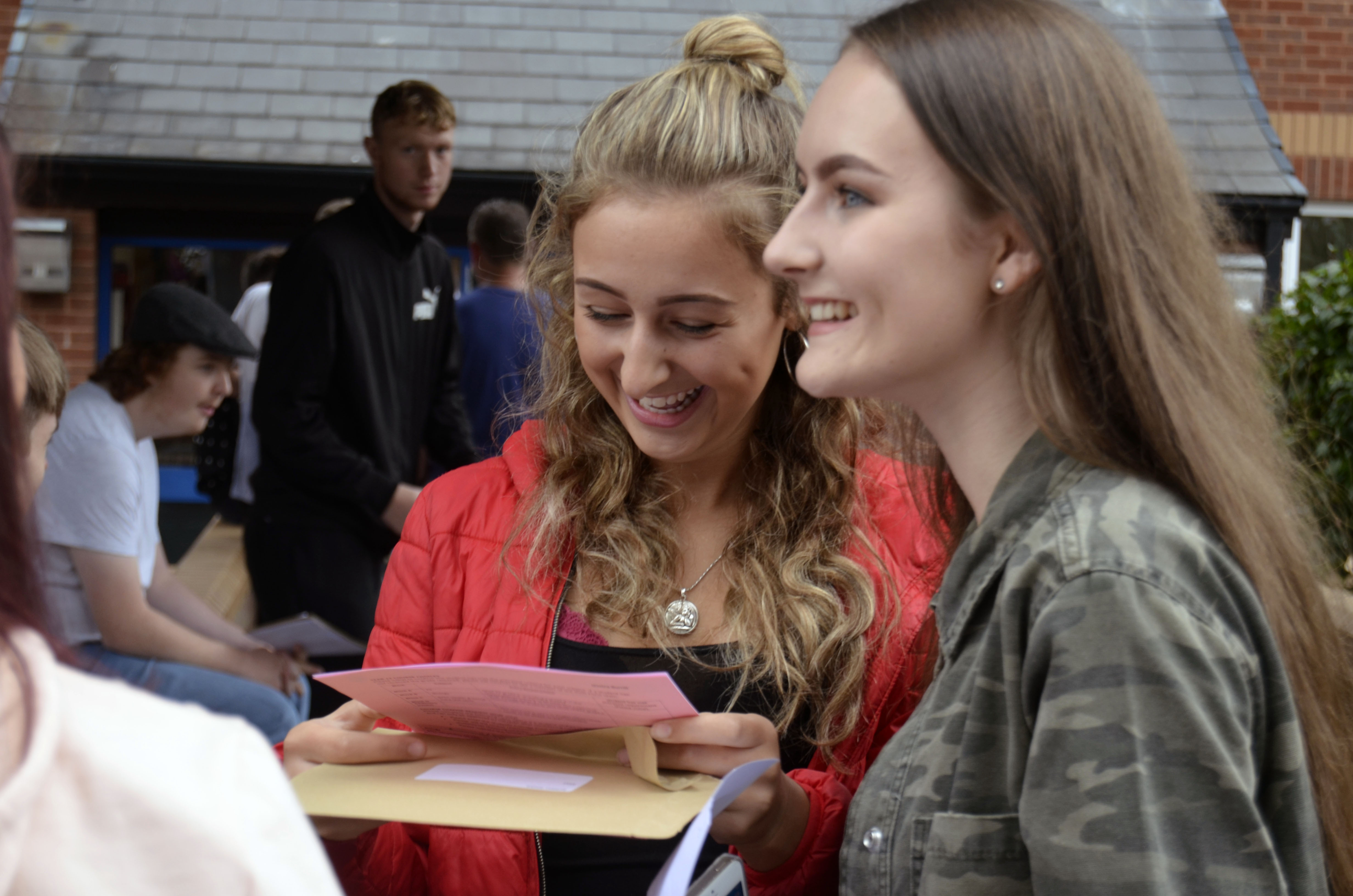 We will admit to having been a little more nervous than usual in the run up to results day this year. Whilst things in school had felt good and we were pretty confident we would do very well, this was the first cohort to sit the new GCSE courses in English and Maths and, with all the uncertainties that come with such big changes, there was definitely tension in the air.
In the event, we did not need to worry at all. The results are exceptionally strong, especially in English and Maths, and we are absolutely delighted.
The new grading structure makes direct comparisons with previous years difficult, but we can be fairly sure of a few key points – and certainly of the general pattern.
Grade 4 is intended to reflect an 'old' Grade C. This means that we can make a direct comparison on the key measure of what the government calls the 'basics' measure. On this, we saw a fabulous 83% of students gaining 4+ (i.e. A*-C) in English and Maths. This is 6% higher than last year and the best the school has seen for many years – if not ever.
The government is keen to make the number of students gaining 5+ grades in English and Maths a key measure. Direct comparisons with previous years here are impossible (a grade 5 roughly equates to the top third of the old C grade and the bottom third of a B grade). However, we are similarly delighted to be able to report that 67% of students gained 5+ grades in English and Maths and we will be surprised if many schools in the country better this.
At the top end, we are also saw excellent results again, with 28% of students gaining an impressive five or more A* or A grades (n.b. the new grade 7 is a direct equivalent of the 'old' A grade). 61% of students managed to get at least one A* or A grade and a grand total of forty seven students (17%) gained at least eight A*/A grades.
There are so many individual success stories at all levels – and far too many to list here – but we would especially like to celebrate those who achieved a remarkable five A* grades (or grade 8/9 in English and Maths). Their names are below and we take our hats off to them:
Jessica Baillie, Dylan Boston, Jordan Bushnell, Joel Davies, Phoebe Day, Elliot Down, Charlotte Ensor, Eloise Fairhurst, Lauren Gandy, Rebecca Hamer-Larsen, Elisha Henry, Luke Hodgkinson, Adam Hoskinson, Nicholas Jaini, Ben Jeffery, Sian John, Joe Johnson, Alice Lohan-Ganley, Patrick McCahery, Christopher Mundy, Isobel Reader, Robert Reid, Olivia Shackley, Brooke Shay, Mathilde Tavernier, Hannah Walsh and Jake Wernham.
Outside of English and Maths, we can also report strong results. For example, at least 75% of students gained A*-C grades in: Art, Biology, Catering, Chemistry, Dance, Drama, History, Geography, German, Graphics, ICT CIDA, Music, Spanish, Statistics, PE, Photography, Psychology, Physics, Textiles.
All in all, it has been a wonderful day. Watching students opening envelopes and seeing their faces as it dawns on them how well they have done is one of the best bits of the job and, from a headteacher's perspective, it is just as rewarding to see the looks of pride on the teachers' faces.
Really well done to everyone involved; I know how hard people have worked and it is lovely to see so many students doing so well and the school continuing to make such big strides forward.
Gwyn Williams
Headteacher
August 2017
2017 results
As you can see from the table below, our students have done extremely well in comparison with the national and local picture. We are especially delighted to be able to report that we topped the Warrington league tables on the all-important 'basics' measure of the number of students gaining Grade 5 or above in both English and Maths; in fact, we are in the top 8% of all state schools (including grammar schools) in the whole country on this measure.
It might be worth pointing out that Progress 8 scores are at least partly a reflection of the curriculum students study in any given school. At Lymm High School, we take a very strong stance in this regard and have made absolutely sure that our curriculum is built around the needs of our students rather than school league tables. It would be very easy to improve our Progress 8 score by, for example, forcing all students to take the full suite of Ebacc subjects or by entering them all for qualifications that are very easy to pass but have no value as far as sixth forms, colleges and employers are concerned. However, we are convinced that this would be the wrong thing to do and are happy to accept that, on this measure at least, the official performance tables will not truly reflect how well we are doing.