University and Apprenticeship Search Fair
Manchester, Friday 2nd February, 9.30–2.30pm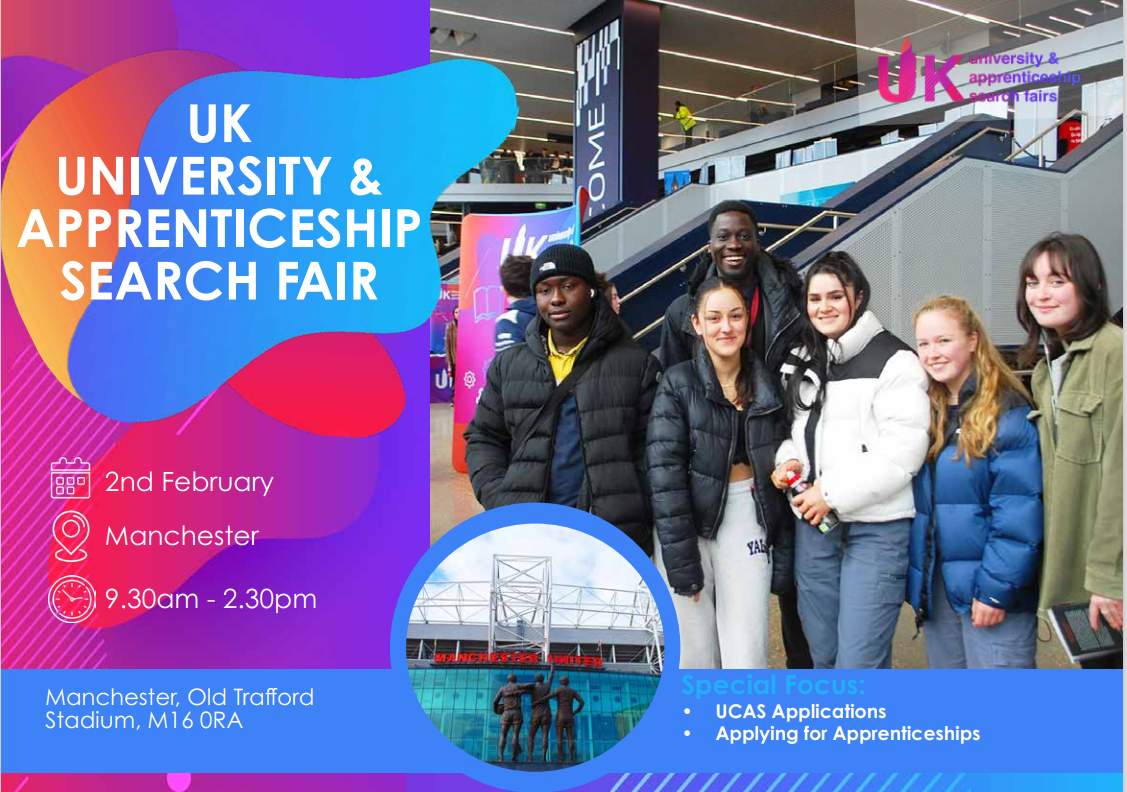 This UK University & Apprenticeship Search event is the perfect way for students to choose which university or apprenticeship is right for them. The free fair will provide attendees with the opportunity to speak to a multitude of universities including Russell Group, red brick, specialist and modern. Students will also be able to talk to a variety of the UK's best apprenticeship providers, HE colleges, specialist institutions, and student-related organisations. The fair is for students of all abilities and aims to widen participation as well as cater for higher academic achievers.
The schedule of the day is:
10.10–10.30am Student Finance
10.40–11am UCAS Personal Statement
11.10–11.30am Why Apprenticeships?
11.40–12pm University Life & Courses
12.10–12.30pm Russell Group University Seminar
1.10–1.30pm Higher & Degree Apprenticeships
1.40–2pm UCAS Personal Statement
For further information, click here.
Year 12 STEM Residentials in Summer 2024
Insight into University Residential Experience are summer schools run over 4 or 5 days where students get a taster of university life and an insight into a specific STEM subject. Students will get the opportunity to experience university-style lectures and work on activities and group projects with the support of academics and student mentors. Students will stay in halls of residence and will take part in social activities in the evenings.
These courses are a great way to try out a STEM subject at university before applying. This allows students to make a better informed decision for their UCAS application, as well as meeting like-minded students from all over the UK.
These summer schools are run for small groups (on average 30 students) and so places are limited. The list of courses available so far include:
Materials Science at the University of Oxford
17–21st June 2024, 4-night residential
Materials Science at the University of Cambridge
30th June – 4th July , 4-night residential
Broad based Engineering at the University of Sheffield
4-night residential
Aerospace Engineering at the University of Liverpool
4-night residential
Maths at Lancaster University
29th July – 1st August, 3-night residential
Mechanical Engineering at UCL
3-night residential
Ocean & Earth Science at the University of Southampton
21st July – 25th July 2024, 4-night residential
For more information, click here.