This page is updated regularly with the latest information.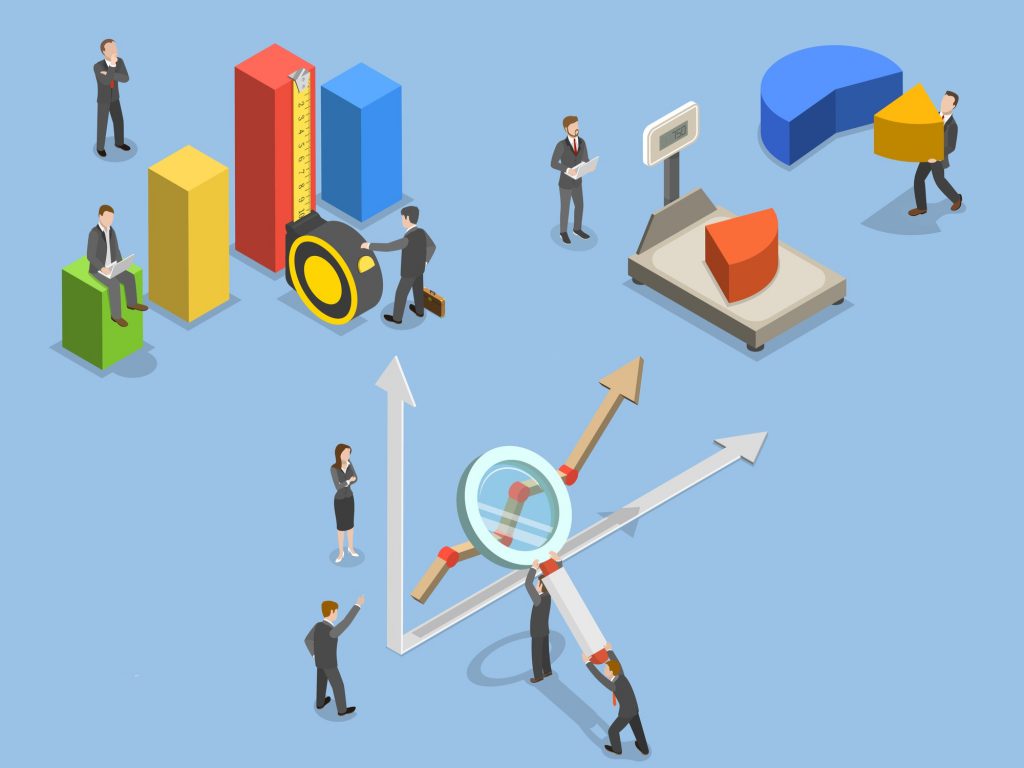 Labour market information (LMI) tells you about the workplace or labour market.
LMI describes the condition of the labour market, past and present, as well as future projections. It makes clear:
where work opportunities are increasing or decreasing

what occupations exist

what you need to study to become a professional in that occupation

what is required to take up an occupation

how one can find a job, change job or progress in a career.   
Lymm High students receive LMI on a weekly basis as part of their careers form time activity. 
Click here for an overview of Warrington Labour Market Information.
Industry sectors that are growing, and those with significant levels of employment in Cheshire and Warrington, can be viewed here.
Current vacancies
Please click here to see this week's list of current apprenticeships in the Warrington area. For further details and to apply for any of these vacancies go to the National Apprenticeship Website
Click here for the 2022 Top 100 Apprenticeship Providers.
Further opportunities in Cheshire and Warrington can be viewed here and here.
To view the Higher and Degree Vacancy Listing for 2023, click here.
WTW apprenticeships
Start date: September 2024
Deadline for applications: Friday 24th November 2023
Willis Towers Watson plc (WTW) is a British–American multinational company providing insurance services. Any Year 13 students considering apprenticeships after leaving Sixth Form may be interested in the following two positions based in Manchester.
Click on the links for further information.
Level 4 Actuarial Technician Apprenticeship Programme
Academic entrance requirements: 3 A' Levels or equivalent qualifications,
including Maths grade A or B.
The Level 4 Actuarial apprenticeship is a 27-month programme entry level qualification into the industry, which has been designed to support further
career development within the actuarial sector, for example by progressing to the Level 7 Actuary Apprenticeship (which results in exemptions from IFoA CM, CS, CB and CP Exams).
Level 6 BSc Digital & Technology Solutions (DTS) Degree Apprenticeship
Academic entrance requirements: 3 A' Levels or equivalent qualifications,
including Maths, IT or Computing.
Candidates also need to demonstrate some skills in the technology space, with knowledge of at least one programming language (e.g., Python, C#).
The Level 6 Digital & Technology Solutions apprenticeship is a 30-month
programme which results in a BSc (Hons) in Digital & Technology Solutions.
Volkswagen Group apprenticeship programme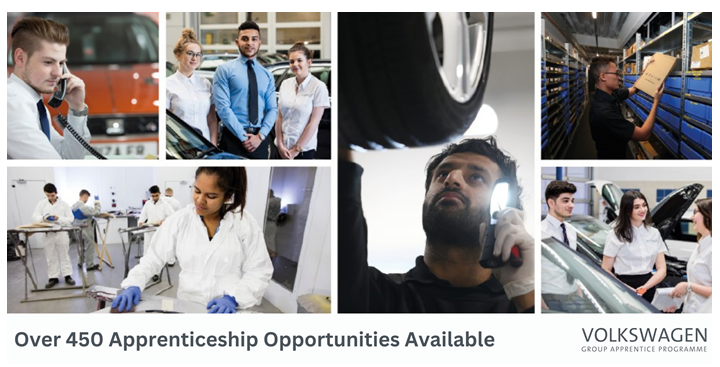 The Volkswagen Group apprenticeship programme offers the opportunity to learn and earn through gaining a nationally recognised qualification while working for one of the world's leading automotive brands such as Audi, SEAT, SKODA, Volkswagen, Volkswagen Commercial Vehicles, Volkswagen Group Paint and Body, and TPS (Volkswagen Group Genuine Parts).
The Volkswagen Group apprenticeship programme are recruiting around 480 apprentices this year for Service Technician, Parts Advisor, Customer Service Advisor, Parts Sales Executives, Paint Technician, Panel Technician and Mechanical Electrical and Trim Technician (MET) roles.
Below are some of the benefits of the Volkswagen Group apprenticeship programme:
Earn while you learn without racking up debt
Gain work experience from day one of your apprenticeship
Receive nationally recognised qualifications
Acquire brand certifications from Europe's largest carmaker
Develop life skills and technical knowledge to succeed
Training and support provided throughout the learner journey
Meet new people and take part in new experiences
The first step towards a rewarding career in the automotive industry
Once the apprenticeship is complete, there are many opportunities to progress within the retail network. Jonathan Aitkenhead (Aftersales Manager) discusses how the apprenticeship programme helped him to develop his career. Watch his video here.
For more information, and to apply, click here.
Sunbelt Rentals Apprenticeships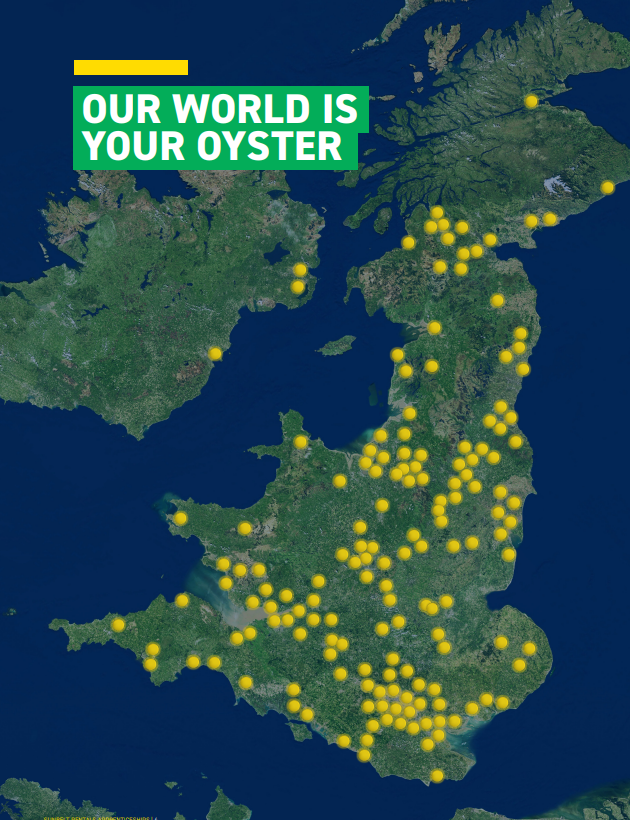 The UK's largest rental equipment provider has an apprenticeship programme offering a wide choice of roles, a mentor, workplace-based skills training, and career opportunities across the organisation.
Click here for a brochure outlining the opportunities available.
Engineering Design Degree Apprenticeships at Sellafield
Sellafield's Degree Apprenticeships strike the perfect balance between on-the-job training and experience, whilst enabling you to study for a fully funded degree.
Sellafield Ltd says its Degree Apprentices go on to be future business leaders and vital technical specialists, so it's made it its mission to invest in your success.
From day one, you'll get access to expert advice and guidance, real responsibility on projects that have a tangible impact, and all the training and development you need to achieve a degree qualification in your chosen area.
The Warrington-based Degree Apprenticeship opportunities include:
Civil & Structural Design Engineering
Conventional Safety
Control, Electrical & Instrument Design Engineering
Digital Engineering
Mechanical Design Engineering
Operational Research & Analytics
Quality & Inspection Engineering
Safety Case
System Engineering
To learn more about the scheme, click here.
United Utilities opportunities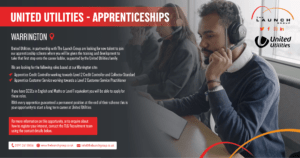 United Utilities are recruiting for two apprenticeship opportunities: Apprentice Credit Controllers and Customer Service Apprentices. As well as being paid to work and receive industry recognised qualifications United Utilities also offer the following benefits:
Guaranteed job at the end of your apprenticeship.
A starting salary of £12,500 which will increase each year based on performance.
Training and fun activities with your fellow apprentices.
An environment to be proud of. United Utilities is a responsible employer committed to
developing young talent in state-of-the-art facilities.
You'll have the chance to network, bond and learn from your colleagues and fellow
apprentices.
Gym and wellness programme.
Pension scheme
Opportunity to buy or sell holidays
If you are interested, please contact The Launch Group or call 0191 261 8456.
Football Development and Education Programme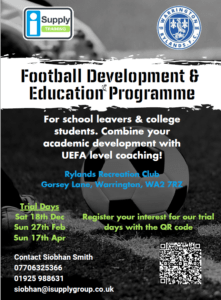 Combine academic development with UEFA level coaching. Click here for more information.