Overview
The PE and Sport Faculty consists of a team of committed staff who value the importance of delivering outstanding lessons, which will allow all students to achieve their potential. Students will experience an exciting and innovative curriculum and have access to an 'astounding' extra-curricular programme.
We have developed excellent partnerships with many local schools and clubs to give young people a pathway for their chosen sport. Students attend a variety of community club sessions in the evenings and at weekends.
With excellent facilities such as a gymnasium, sports hall, fitness studio, 3G pitch, Astro, swimming pool, sports hall, a large school field and strong links to local clubs, Lymm High School is able to provide outstanding sporting opportunities for all.
What is our intent?
Intent
It is our intent to teach students life skills that will positively impact on their future. We aim to deliver high-quality teaching and learning opportunities that inspire all students to take responsibility in leading healthy, active lifestyles whilst also ensuring students are supported to excel in the chosen sports. We want to teach students how to work independently and as part of a team to embed life-long values.
Implementation
All pupils participate in 2 hours of high-quality PE each week. Our PE programme incorporates a variety of sports and activities to ensure all students develop the confidence, tolerance and the appreciation of their own and others' strengths and weaknesses. We provide a range of opportunities for all students to engage in extra-curricular activities during and after school, in addition to competitive sporting events. This is an inclusive approach which endeavours to encourage not only physical development but also well-being. Students will be given the opportunity to represent the school in a range of district, county and national competitions.
Impact
Our curriculum aims to improve the well-being and fitness of all children, not only through the sporting skills taught, but through the underpinning values PE and Sport promotes. Within our PE lessons, students are taught about respect and tolerance and that to be successful you need to be resilient and take responsibility of their own health and fitness. This will be evidenced through a large number of students taking part in physical activity in and out of school. Our impact is therefore to motivate students to utilise these underpinning skills in an independent and effective way in order to live happy and healthy lives.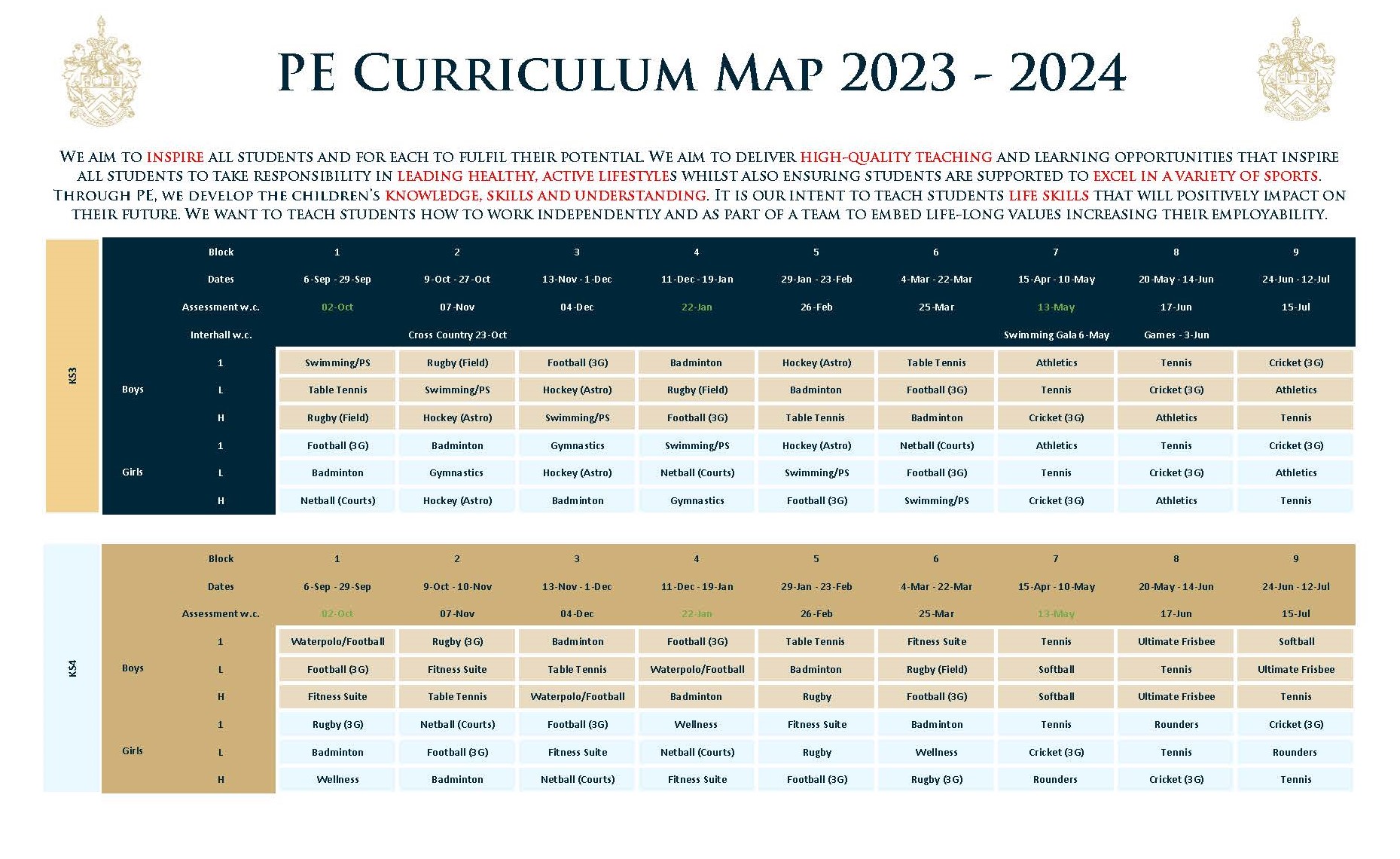 Indoor Sports require indoor kit. White shirt, blue shorts, skort or leggings for girls. White socks and trainers.
Indoor sports include. Table Tennis, Badminton, Gymnastics, Fitness Suite and Wellness
Outdoor Sports require outdoor kit.
Outdoor sports include Netball, Football, Tennis, Hockey, Rugby, Softball, Rounders, Frisbee and Athletics.
Boys: Blue socks (shin pads for football and boots for activities on the field or 3G) blue Shorts and rugby shirt. Girls: Indoor PE kit plus Blue ¾ zip tracksuit top. Layers under PE kit are encouraged during colder months.
*Outdoor summer sports such as Tennis and Athletics revert to the indoor kit.
Swimming: Navy or similar shorts and costumes. Notes must be provided for the use of goggles.
Class code Guide – PE groups will either be 1, L or H. The curriculum map states what each group are doing throughout the year. Classes will either be 9XB1 or 9YGL. The X and Y is for the side of the year. The B or G is boys or girls and the final symbol is the PE group
Please click here for the 2023 Extra-curricular timetable.