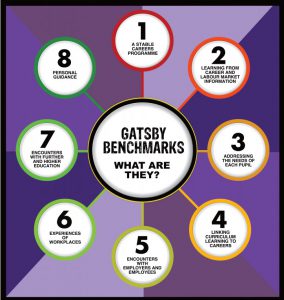 The Gatsby Benchmarks are a framework of 8 guidelines that define the best careers provision in schools and colleges. More information on the Gatsby Benchmarks and what they involve can be found here.
At Lymm High School, we meet these benchmarks in the following ways:
1. A stable careers programme
As part of the Life Programme, students study careers education that focuses on:
Year 7 Different types of employment and employment skills
Year 8 Work life behaviours and gender stereotypes
Year 9 Finance and labour market information
Year 10 CV writing workshop and post-16 choices
Year 11 Budgeting and interview skills
Sixth form Which careers will suit you?
2. Learning from career and labour market information
Labour market information tells you about the workplace or labour market.  Labour market information describes the condition of the labour market, past and present, as well as future projections. It makes clear where work opportunities are increasing or decreasing, what occupations exist, what you need to study to become a professional in that occupation, what is required to take up an occupation, how one can find a job, change job or progress in a career.
We have a school-wide subscription to Fast Tomato which gives students personalised career information based on their choices
The website icould.com is used – especially in Year 9 – when students learn about LMI and how it can be used to help inform career choices
Annual apprenticeship evening – students get the opportunity to meet local employers and apprentice providers to find out about careers/current opportunities
Sixth form students receive weekly or fortnightly updates about apprenticeship opportunities and changes in the local labour market around Warrington
A weekly form time LMI activity enables students to learn about a vast range of careers and the LMI for each of these
3. Addressing the needs of each pupil
Students from Year 7 onwards have access to a personalised account with Fast Tomato that allows them to discover and investigate a variety of careers based on their responses to an interactive personality and likes quiz.
Impartial careers advice is available to every student in Year 11 from a qualified careers advisor. Personalised guidance is also available to sixth form students.
Students complete a careers aspirations form.
Students in Year 9 and Year 11 have a one-to-one meeting with a member of SLT to discuss their choices for the next stage of their academic journey.
Assembly programme includes a week focusing on Apprenticeships so that information can be provided on career options that are not following a strictly academic route.
4. Linking curriculum learning to careers
All academic departments have subject-specific resources that link their subject to careers.
In the Autumn term, a Careers week provides a link between the curriculum and careers. Students in all year groups learn explicitly how each subject links to careers and which careers it supports.
5. Encounters with employers and employees
The Annual Apprenticeship Evening held in the spring term brings employers and training providers to school. The Apprenticeship Evening is open to all students in Years 10 and above.
Careers Fair – Warrington Council run careers fair is promoted widely in school for students in Years 10 and above.
A programme of guest speakers in assembly and at lunchtimes. Sessions specific to the needs of certain groups (eg most able) have been organised.
Across KS3 there are a number of opportunities for students to get involved in workshops and roadshows that are supported by employers and external agencies. Including the annual BAE Systems Roadshow for Year 8 students which takes place in January/February each year.
The Big Assembly is used as a virtual tool for Year 7 and 8 to find out more about STEM careers.
Mock interviews for Year 12 students facilitated by employers.
Lymm High School have developed a number of links with businesses that routinely support the careers initiatives including Morrisons, Balfour Beatty, Mace Construction, Kelloggs, Sellafield and Barclays.
6. Experiences of workplaces
Every student in Year 12 has the opportunity to spend one week with an employer in the summer term. All 200+ students in Year 12 take part in work experience, with placements varying from local primary schools, hospitals, solicitors, opticians, retail and digital media placements. Some are even fortunate enough to be placed overseas. For example, in 2019, we had students at:
Sellafield
Liverpool Women's Hospital
Burberry
Coca-Cola
Rolls-Royce
National Trust
RBS
BBC
Students have gained an immense amount of experience:
"Work experience has only solidified the decision of what I want to do at university. I have met some amazing people that have enhanced my experience and helped me develop my skills. This opportunity has only made me want to work harder to enable those next steps in becoming a teacher and made me more passionate about succeeding."
"It was an outstanding week that has confirmed to me that what I want to do at university is the right thing as well as providing me with incredible experiences that will help further my personal statement and CV. I highly recommend this to media students within one week I; interviewed players writing my own questions and conducting the interview alone, I attended 3 press conferences with Sky Sports, ITV, BBC and local radio stations, I learnt how to take images for magazines where seven of my own images were used across the social media pages and the magazine, I wrote a section and article for the magazine as well as doing a live match report on game day and taking over their Instagram again on game day."
7. Encounters with further and higher education
Local providers of further education are invited to attend the annual Apprenticeship Evening and to present in school to students who are considering a vocational pathway.
Speakers and outreach officers are invited to engage with our students through a programme of events on a Wednesday afternoon.
Lymm High School is a member of the local Oxnet network and students (from Year 10 and above) are encouraged to attend their events. Year 12 students are encouraged to enrol in the Oxnet programme of virtual and residential lectures and learning.
Opportunities for Open Days are identified and promoted with Sixth Form students.
Extra-curricular lectures are routinely advertised and promoted amongst students to help them develop a deeper understanding of the wider impact of their subject knowledge.
The Gateway Programme inspires and supports our most able students in securing places at the best universities in the country.
8. Personal guidance
KS4 and KS5 students have one-to-one sessions with a qualified careers advisor.
A representative from the careers advisor service is also available at all parents' evenings and open evenings throughout the year.
All Year 9 students have an options interview with a member of SLT in advance of confirming their options.
All Year 11 students have an options interview with a member of the Sixth Form Team to discuss the suitability of their Post-16 options.
Life Programme sessions allow for students to discuss their plans and intentions for careers with a member of staff.