Registration is open for the Virtual Careers Festival next week.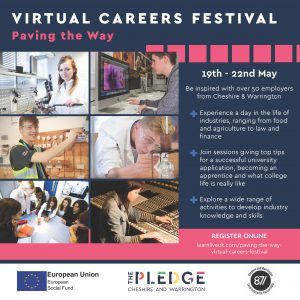 The event starts on Tuesday morning at 11am with guidance on how the event will work. From 11.15am there will be access to some 'Day in the Life' videos to find out what certain jobs involve.  Videos will be released dependent on the industry category. Look on the main page of the website to find out what industry categories are available, and when they will be released. Live questions can be posed to people involved in those industries during the live streaming. You can choose to watch as many of the 'Day in the Life' videos as you wish and these will run across Tuesday and Wednesday. All videos will be available on line and you will be able to access these at your leisure.
Thursday is all about options for education and next steps. There will be information sessions on Further and Higher Education, Universities (including applying to Oxbridge) and Apprenticeships. There will be the opportunity to ask questions to the institutions involved.
Friday will give you the opportunity to find out more about applying for jobs (employability skills, writing your CV, discovering your passion and how to work with it, and how volunteering can help with your future, amongst others).
There is also the opportunity to win Work Experience and to get involved in some virtual projects and business challenges with prizes available.
This is a really exciting opportunity and offering for students to engage with so please try and take advantage of it.
An FAQ document (found here: https://bit.ly/2Aelyoj) can help students understand how to get the most out of the festival. For more information visit: