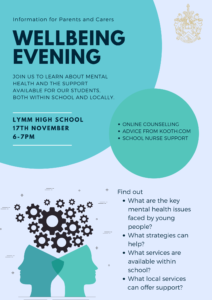 On Wednesday 17th November (6–7pm) we are inviting parents and carers to attend school for a mental health information evening in the Main Hall.
The mental health and wellbeing of our young people is vitally important and now, more than ever, we hope to encourage our students to speak out, ask questions and access the support they need for their wellbeing.
The Wellbeing Evening will include a presentation from our Mental Health Lead Mrs Hunter alongside information from the School Nurse service and Kooth.com. The evening will explore a variety of mental health difficulties faced by young people together with practical strategies and advice for parents and carers to help support our students with their wellbeing.
We look forward to welcoming you all to the evening.