One of the core aspects of our ethos at Lymm High School is the value we place on young people taking a full part in extra-curricular activities and, in particular, developing their skills and confidence in leadership. We interpret leadership inclusively, encouraging participation and active involvement in all areas of school life in the belief that this is essential to helping bring up socially responsible citizens capable of thriving in the modern world. The breadth and quality of our extra-curricular programme is a distinctive element of our school and something we are very proud of.
The Leadership Ladder is at the heart of our desire to ensure that all students get the full benefits of participation in a wide range of different activities and regular opportunities to develop their leadership skills.  Different levels of 'Leadership Colours' are awarded for each step on the ladder. Year 7 and 8 students work towards Lower Bronze, Lower Silver and Lower Gold Leadership Colours, achieving certificates, badges and Hall points to recognise their commitment. Year 9, 10 and 11 students work towards Upper Bronze, Upper Silver and Upper Gold Leadership Colours.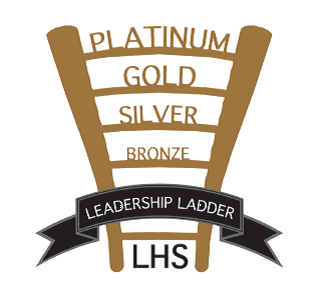 At each level, students must complete at least 5 leadership activities from a specific list in order to achieve the award. Once students have achieved the Gold award, they can work towards the Platinum Community Leadership Award, where they must complete 20, 50 or 100 hours of volunteering in the community as well as make a short presentation about the volunteering they have been involved in.
Form tutors sign off the activities in students' planners and Leadership Colours are awarded in assemblies every month. Badges are worn proudly on the school blazer. Students gain 10 Hall points for a Bronze award, 20 points for a Silver award, 30 points for a Gold award and more for a Platinum award.
Academic Year 2017-2018
Last year, the following number of Leadership Colours were awarded: